The beauty of tile is its versatility. It's incredibly durable and waterproof, plus it can be used indoors and out. From ceramic to vinyl, tile is an ever-popular style that stays on trend year after year. In the past few years we've seen the reemergence of subway tile, especially in kitchens, as well as colorful mosaic tile strips being added to kitchens, bathrooms and fireplaces as well.


Bathrooms are of course the most popular place to find tile flooring, and it has been used as both a wall and flooring option for decades. However, even though tile itself has been popular for so long, bathroom tile trends continue to change each year. Find out how to keep your bathroom stylish and functional with our top bathroom tile trends.



Whole Space Style


The first thing that people try to do when remodeling a room, especially a bathroom, is to start with the floor and then figure out how to match the walls and other items in the space. Make it easy by tiling the entire area!

Adding tile to the whole space is a wonderful way to give harmony to the room and create a stylish look at the same time. Certain types of tile can be placed on the floor and matched anywhere else in the bathroom, like on the walls or in the shower.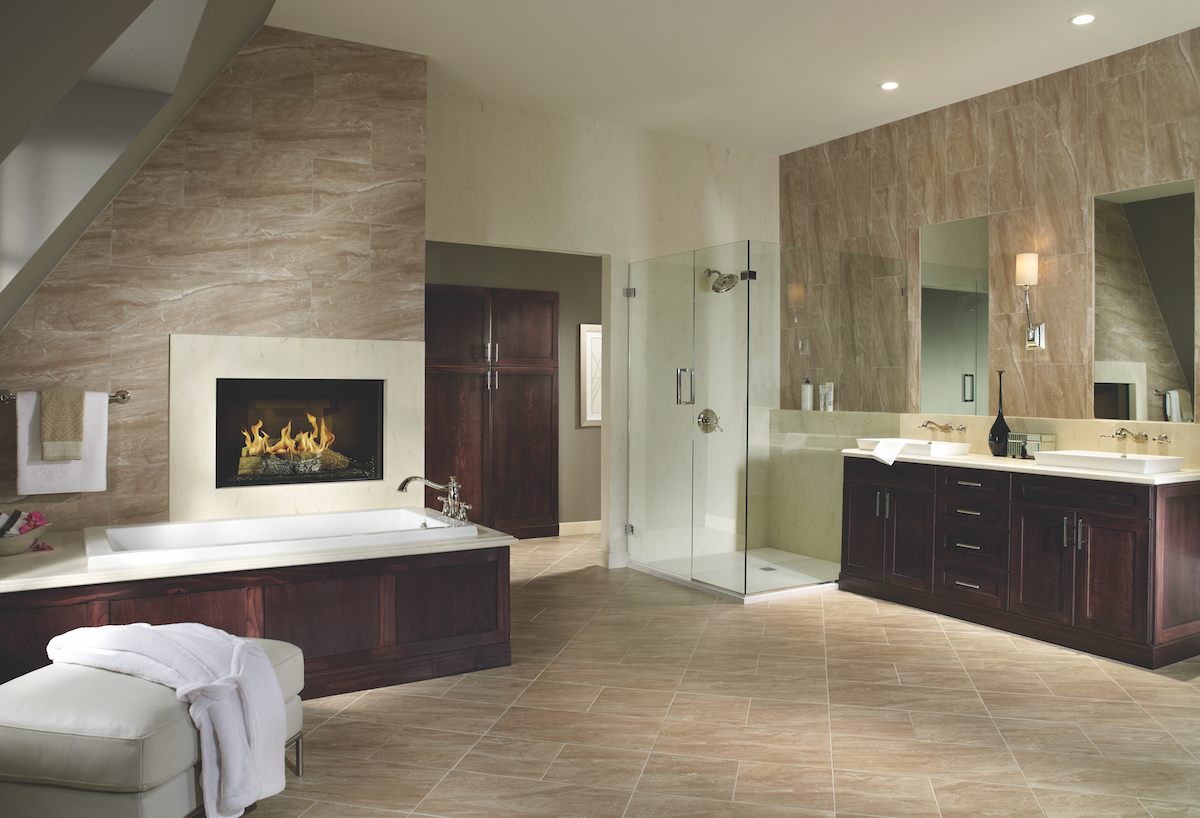 Colored Grout


Another bathroom tile trend that's booming is the use of colored grout. Using colored grout helps to really catch the eye and adds an extra layer of texture to the room. When selecting your color of grout, keep contrast in mind. If you're using a lighter, neutral-colored tile, try adding a dark grout line. The dark grout line separates each tile and naturally draws the eye to the geometric lines of the room.


If you're using a dark or textured tile, a white or gray grout lets you create separation between the tiles without drawing too much attention away from the textures themselves.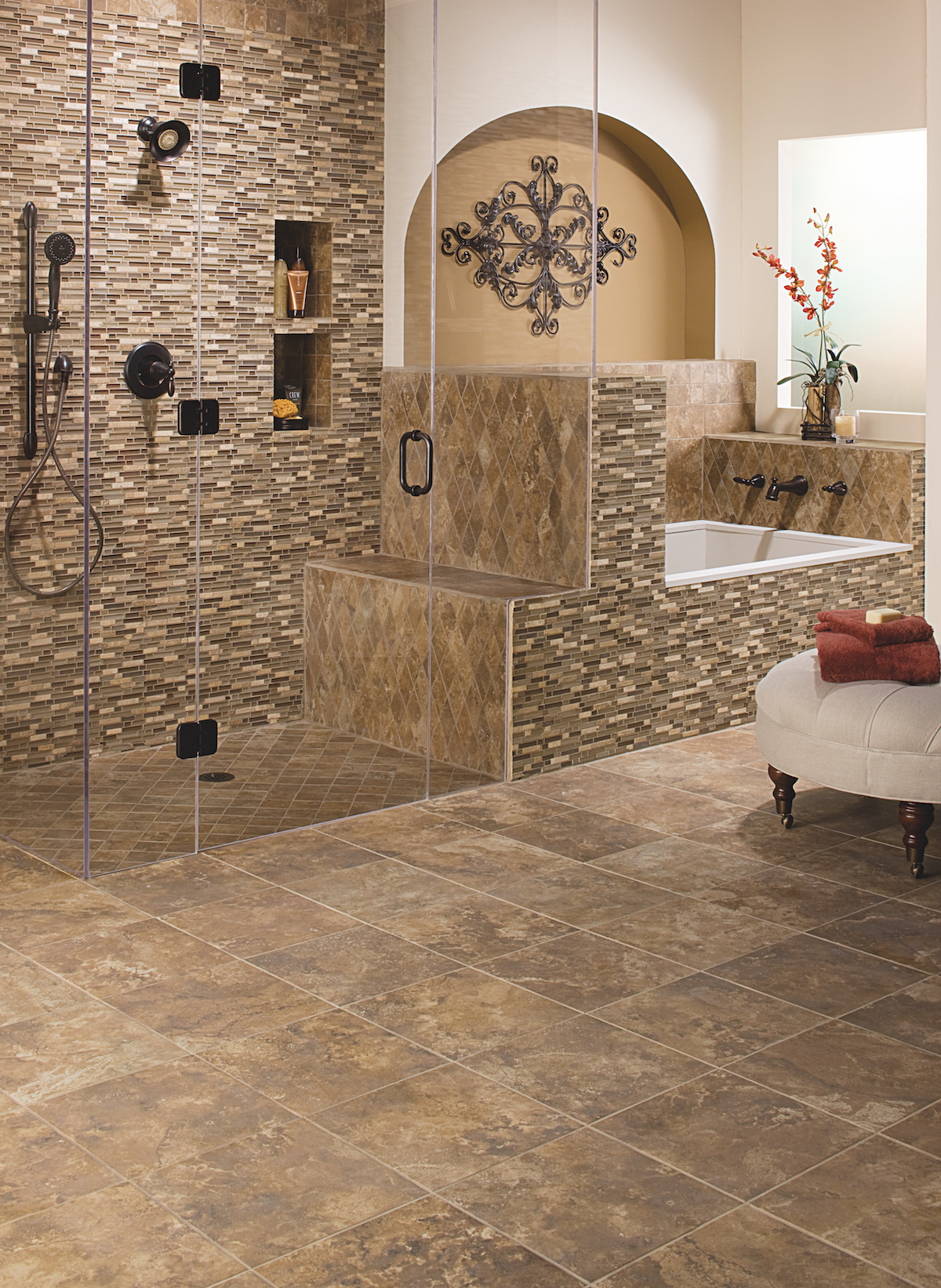 Glass Tile


Glass and mosaic tiles have always been popular for backsplashes in kitchens, but did you know that they're a big trend for bathrooms as well? Creating a feature wall or using mosaic tile to cover a large area on one wall is an emerging trend. Why? Because glass and mosaic tiles offer a wide variety of color and help to create a sense of movement in the room. Tile can feature multiple neutral shades that pair easily with other colors in the bathroom.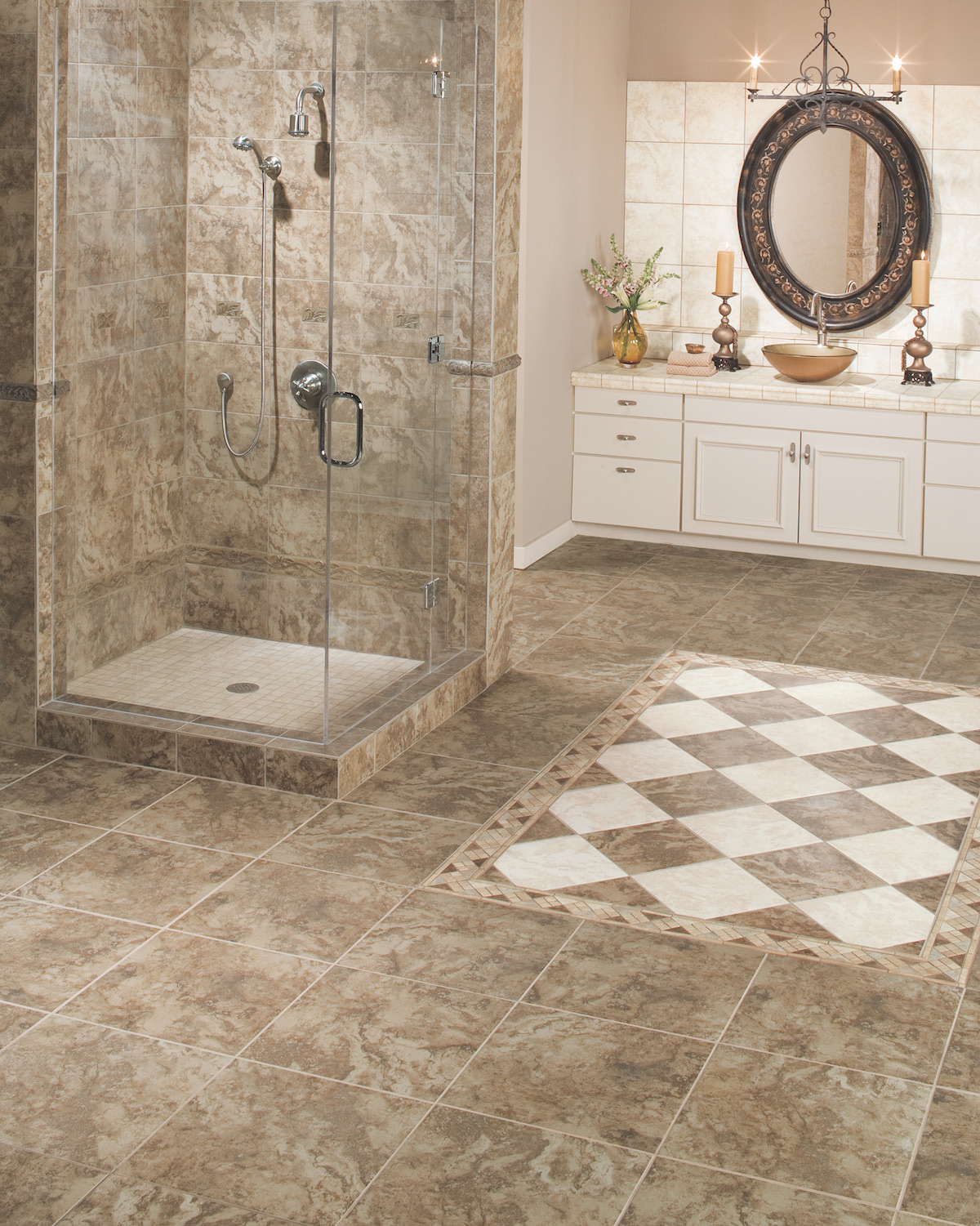 Rugging


Area rugs have long been a great way to add color and texture to a room, but they don't always belong in your bathroom. That's why rugging is becoming a popular interior design trend. By surrounding a set of tiles with coordinating patterned tile, you create a rug look for your floor that adds style to your bathroom without sacrificing durability.


Colorful Tile


Scandinavian and monochromatic color schemes that focus primarily on whites and soft tones are a trend that we're seeing become less and less popular. Instead, people are transitioning to a bathroom tile trend that features loads of color!


Whether it's adding in bright colored stones, glass tile strips or the creamy shades of colorful woods, adding color to your bathroom not only makes the room feel larger but more appealing to the eye.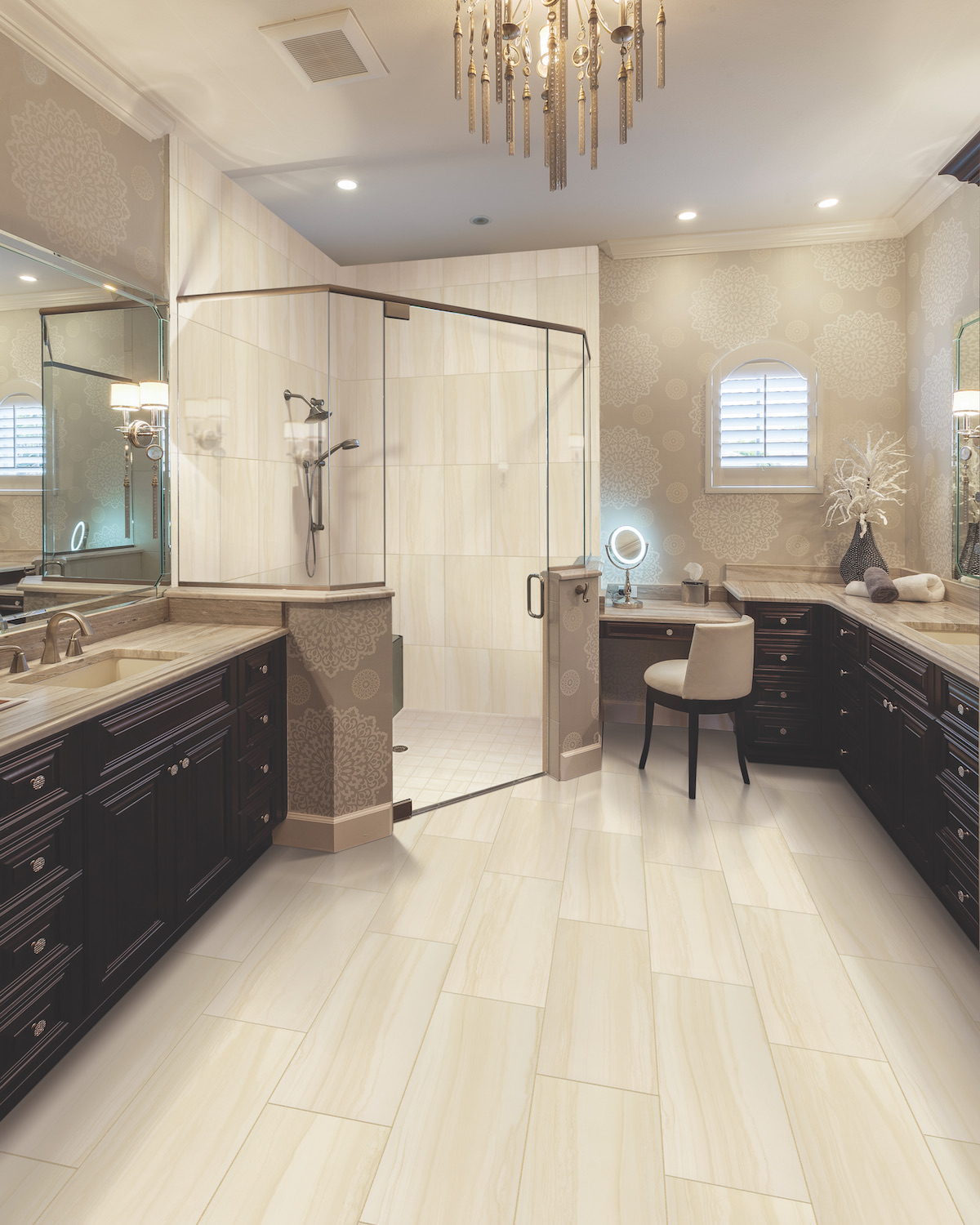 Wooden Tile

Hardwoods give a room a timeless look and earthy feel. They're a classic type of flooring that will never go out of style. Hardwoods can be susceptible to humidity and temperature changes though.


Luckily advancements in luxury vinyl tile, like waterproof SolidTech LVT from Mohawk, now offer stylish wood-look options that are resistant to these problems. These new technologies are allowing people to add wood finishes to any room in the home, and yes, that means the bathroom!


Wood-look LVT has consistently been growing in popularity over the last few years and will continue to be a booming bathroom tile trend. These tiles add new tones and textures to the room as well as extra comfort under foot. Luxury vinyl tile, though it may look the same as other types of tile, is warmer and softer underfoot. No more freezing toes when you get up for your morning shower during cold months!


What types of tile are you using in your bathroom?